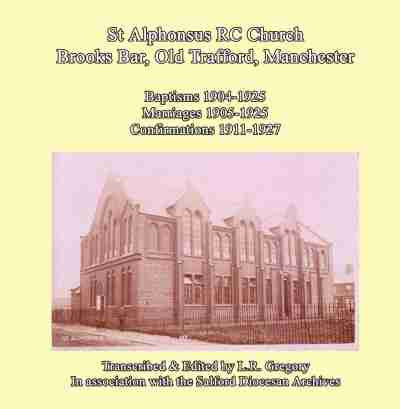 Salford Diocesan Archive
Manchester, St. Alphonsus, Old Trafford
Code:
$13.00
$15.60 inc VAT for customers within the EU
The new parish of St Alphonsus, Brooks Bar was annexed from that of St Wilfrid, Hulme in 1903 and the school-chapel designed by Mr Oswald Hill was opened the following year on 2nd October 1904 with Fr Charles MacCarthy being appointed its first Rector. Fr (later Canon) O'Donnell succeeded as Parish Priest in 1929 following Fr MacCarthy's death. The congregation rapidly developed during the early twentieth century with a strong Irish presence and by the 1930s a new larger church was required.
In December 1934, work began on this new church which was to be built alongside the school-chapel. The church was designed in 1930s gothic style by Hill, Sandy & Norris and was opened in June 1936 at which time the old chapel became part of the parish school. This church was consecrated in June 1947.
Canon O'Donnell remained at St Alphonsus until his death in 1973 when he was succeeded by Fr Maurice J. Murphy and then Fr Patrick McMahon. In 2004, the parish became chapel-of-ease to Our Lady's Church, Moss Side and the Parish Registers were removed to that church where Fr Patrick Deegan has kindly made them available to us for transcription.
This CD contains full transcripts of the 646 Baptisms, 185 Marriages and 697 Confirmations that took place at this church in the first quarter of the twentieth century along with complete scans of the original Baptism and Marriage registers and an index to the names of all persons undertaking the sacraments.
---
Share this Product
---
More from this collection